¡CALABAZAFEST! is BACK ON!
¡CALABAZAFEST! has been rescheduled
for SUNDAY, NOV. 4!
Come by to celebrate life
AND donate to Sandy relief efforts!

EcoStation:NY / Bushwick Farmers' Market & Friends Present
¡CALABAZAFEST! 2012
Sunday, November 4 • 1:00pm - 5:00pm
María Hernandez Park • Bushwick, Brooklyn

For information about participating or volunteering,
contact Nick Petrie, EcoStation:NY Outreach Coordinator:
tel (914) 589-8921, email Nick@EcoStationNY.org (habla Español)
Press inquiries, click here.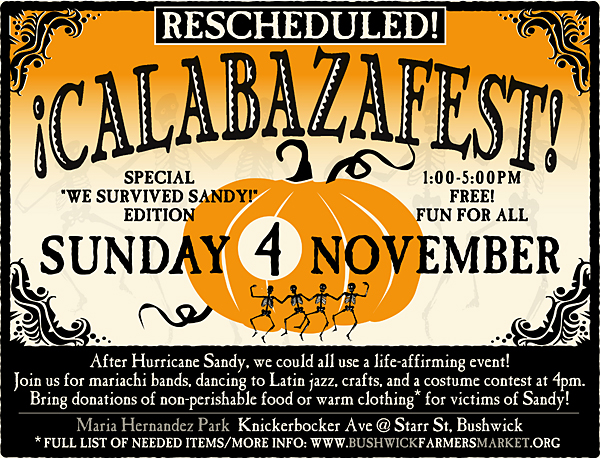 ¡CALABAZAFEST!, Bushwick's fun and FREE cross-cultural celebration of the season returns to Maria Hernandez Park on Sunday, October 28 from 1:00pm to 5:00pm. Now in its third year, the mini-festival continues to grow and delight.

¡CALABAZAFEST! is a colorful mash-up of Day of the Dead, Halloween, and Harvest Fair traditions, with an eco-friendly message. Activities will include pumpkin crafts, "sugar skull" mask making, a costume contest (4:00pm), and cooking demonstrations using seasonal ingredients. All vegetable waste will be composted and used to enrich the soil at nearby Bushwick Campus Farm.

Fantastic live musical performances include Mariachi Flor de Toloache, Sabor and the Afro-Latineers, and Mariachi Tapatio de Alvaro Paulino accompanied by New York City Mariachi Conservatory students!

¡CALABAZAFEST! 2012 is being presented by EcoStation:NY's Bushwick Farmers' Market, with community partners Arts in Bushwick, Make the Road NY, El Puente, and Bushwick Green Team. This community event is being made possible by a grant from Citizens Committee for New York City.

Volunteers are needed and welcome! Contact Nick for details.
EcoStation:NY is a Bushwick-based nonprofit organization devoted to food justice and sustainable urban agriculture. Their current projects include Bushwick Farmers' Market, Bushwick Campus Farm, and Farm-in-the-Sky.